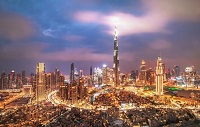 Growth in Dubai's non-oil private sector businesses jumped to an eight-month high in April as stabilising costs triggered faster sales and helped companies to expand inventories and hire more people.
According to Zawya, Dubai's Purchasing Managers' Index (PMI) tracking non-oil businesses reached an eight-month high last month as demand growth quickened in the emirate.
The latest S&P Global Dubai PMI had a headline index of 56.4, up from 55.5 in March, with new orders rising at the second-quickest rate in nearly four years. The report showed selling prices dropped at their sharpest rate in 2019.
David Owen, a senior economist at S&P Global Market Intelligence, said firms had been supported in growth by the building of their inventories in light of a promising demand outlook in a subdued cost environment, and data suggests that savings are being directly passed on to customers in the form of lower charges.
The report, which covers the non-oil private sector including travel and tourism, wholesale and retail and construction, said costs had been stabilising and supply chains improving, and firms continued to expand their inventories and staffing at elevated rates.
The headline index, for which anything above 50.0 indicates improving business conditions, signalled a robust improvement in business conditions across the non-oil economy, sharper than the series trend, the report said.
Around 29% of survey respondents saw an expansion since the previous month, compared to just 4% which noted a decline.
The improvement in sales growth was chiefly led by travel and tourism and wholesale and retail, where upturns reached the sharpest recorded for eight and six months respectively.
However, momentum in the construction industry waned, as new work rose only modestly and to the least extent since last November.
There were signs of a sustained improvement in supply chains with average lead times on inputs shortened for the fourth month running, as firms noted that vendors were often able to deliver more quickly when requested.
While companies added new employees to meet higher demand, the rate of job creation slowed from March's five-year high.
The report said companies were offering discounts as a result of cost declines in wholesale and retail and travel and tourism at the highest level in three and a half years.
Business confidence towards future activity remained positive, though it slipped fractionally from March to a four-month low. Firms broadly hoped that improving market conditions will drive activity higher, the report added.
Owen said new business intakes increased to a much sharper degree than in March and activity levels rose more quickly.
He said a subdued cost environment had helped firms, with data suggesting savings had been passed to customers. However, he warned that while discounting supports sales pipelines, it comes at the risk of suppressing margins further in a competitive market. (NewsWire)