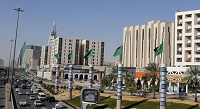 The United Arab Emirates' foreign trade hit 2.2 trillion dirhams ($599 billion) in 2022, up 17% year-on-year, UAE Prime Minister and ruler of Dubai Sheikh Mohammed bin Rashid al-Maktoum tweeted on Monday.
According to Reuters, the Gulf state, a key OPEC producer, has invested heavily in transport and logistics infrastructure, and expanded economic partnerships to diversify away from hydrocarbons and towards becoming a global trade hub.
Non-oil exports grew 6% in 2022 from the previous year to 366 billion dirhams – but were up 52% from 2019 – while imports climbed 22% to 1.25 trillion dirhams, the ministry of economy said. Re-exports were up 21% over 2021.
The country aims to increase bilateral non-oil trade to $100 billion with India in the next five years after concluding a wide-ranging free trade agreement last year. Its other key trading partners include China, Saudi Arabia and the United States.
Trade with Turkey jumped 40% in 2022, the fastest rate of growth among its top ten export markets. The UAE started negotiations for a free trade agreement with Turkey last year, and talks are expected to conclude in the first quarter.
UAE exports to Turkey grew 109% in 2022, to almost 20.7 billion dirhams, while imports from Turkey rose 15% to 40.3 billion dirhams, UAE minister for foreign trade Thani Al Zeyoudi told Reuters in a briefing on Sunday.
He said Turkey was now the UAE's sixth-largest trading partner.
Trade deals with Cambodia and Georgia are also expected to be finalised in the first quarter. Negotiations on a trade agreement with Ukraine are due to kick off in the first quarter. (NewsWire)