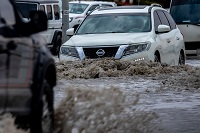 Motorists in the UAE have been advised not to park their vehicles in waterlogged areas during heavy rains, as most insurance policies may not cover damages caused to the engine.
According to Khaleej Times, the UAE have been lashed with heavy rains since Wednesday; as a result, there were instances where vehicles were submerged in flooded and low-lying areas. This resulted in damages to vehicles, including the engine.
Moin ur Rehman, executive director, Unitrust Insurance Broker, said a motorist could file an insurance claim if he/she finds the vehicle fully or partially submerged after the rain, which resulted in damage to the vehicle and its engine.
However, he added that if the owner parks his/her car in a waterlogged area and the vehicle is fully or partially submerged in rainwater, damaging the vehicle's engine, then the motorist may not be in a position to get a claim from the insurance company.
"Be conscious wherever you drive in a waterlogged area because insurance companies could reject your claim. I strongly recommend people go through the terms and conditions of the policies they purchase to understand what is covered under flood and natural calamity. Sometimes, insurance companies may exclude these points; hence, they will not entertain your claim," he said.
Neeraj Gupta, CEO of Policybazaar UAE, also cautioned drivers to read their insurance coverage well and to drive carefully on the roads.
"They need to know that navigating through a pool of water or a flooded road will only increase the chances of engine damage which most insurers do not cover," he said.
"In a nutshell, do not crank your car engine if stalled on a flooded road, as it may cause engine damage and a decline in an insurance claim. It is better to park your car on the side, possibly at an elevated place, of the road to avoid damage to the car," he added.
He also advised drivers not to skimp when getting car insurance. "Consumers need to choose and buy a good comprehensive cover which allows them to use facilities such as towing, roadside assistance and more," he said. "These services come in handy if they are stuck on a flooded patch. All these services are in good built-in plans and work in favour of the customer."
Gupta added that various insurers are reporting around 20-25 per cent increase in engine-related claims during the rainy period. (NewsWire)