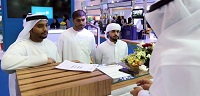 The UAE has no plans to make smaller companies hit Emiratisation targets, a top official has said.
According to The National, as tens of thousands of Emiratis have been successfully placed in new private-sector jobs, Abdulrahman Al Awar, Minister of Human Resources and Emiratisation, said the policy will not change to include companies with fewer than 50 skilled employees.
"We will not change the government's policy about Emiratisation in the private sector. There is no need for additional interventions," Mr Al Awar said earlier this week.
Speaking at the ministry's offices in Dubai last week, he said the policy was successful in 2022 and believes it will have more success in the coming years.
"There will be no surprises [in Emiratisation policy] that will cause confusion in the job market," he told The National.
As many as 1,600 Emiratis work for free zone companies, while officials expect more will secure private sector jobs and benefit from the support of the Nafis policy — which means "compete" or "to be competitive" in Arabic.
"There is a high demand for Emiratis in free zone companies. They started to participate in Nafis programme and we have about 1,600 Emiratis working in private companies at free zones," said Ghannam Al Mazrouei, secretary general of the Emirati Talent Competitiveness Council."
He urged companies in free zones to use the Nafis programme to attract Emiratis to work in their companies despite being exempt from the Emiratisation policy.
Mr Al Mazrouei said the Nafis programme can reduce the financial burden on companies even for those not required to participate.
"Companies in free zone can benefit from Nafis packages," he said. "We have 32,556 Emiratis who benefitted from Nafis financial support in the private sector until last December. Nafis programme can reduce the financial burden on companies."
Mr Al Mazrouei said a budget of Dh1.25 billion per year is provided to train, develop and recruit Emiratis in the private sector.
"We held 1,500 workshops and many virtual meetings with companies in the private sector to support the Emiratisation policy," he said.
As of last week, there were 50,000 Emiratis working in the private sector nationwide, up from about 22,000 a year ago.
Firm deadlines
The federal government on Wednesday imposed Dh400 million ($108m) in fines on companies that had failed to ensure that 2 per cent of their workforce was Emirati by January 1.
There were 13,000 companies that met the criteria, employing more than 50 employees. Businesses based in free zones do not need to comply.
Of the eligible companies, about 9,000 met the deadline while around 3,000 companies missed it. A further 1,000 partially achieved the target, labour officials said.
By January 1, 2024, these 13,000 employers must ensure that Emiratis comprise 4 per cent of their workforce — rising to 10 per cent by the end of 2026.
Under the programme, Emiratis are also entitled to salary top-ups.
An Emirati in a private company could receive up to Dh7,000 a month if they have a bachelor's degree, Dh6,000 if they have a diploma and Dh5,000 if they completed high school or less. (NewsWire)