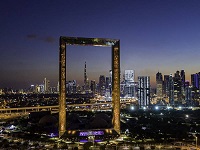 Dubai has topped the list of cities with the highest spending by international visitors this year, pulling ahead of Doha and London in the top three places, the World Travel and Tourism Council (WTTC) said.
According to The National News, WTTC said in its latest Cities Economic Impact report that the Gulf tourism and finance hub has raked in $29.4 billion in international visitor spending so far this year, overtaking Doha where tourists spent $16.8 billion, and London with $16.1 billion.
The cities that have recovered best, compared to pre-pandemic levels of 2019 in terms of international visitor spending, are Doha with a 21 per cent rise in tourist spend, Orlando, Florida, with a 19 per cent increase and Antalya in Turkey with 15 per cent.
"It was in 2022 that cities began their true recovery, as travel restrictions were lifted and demand for international travel returned," said Julia Simpson, president and chief executive of the WTTC.
"As tourism recovers, overcrowding in some destinations is a risk. It is, therefore, important for cities to have the right policies in place to address it. Such policies ought to be enacted in advance before the problem comes to fruition."
The report, which was released at the WTTC global summit in Riyadh this week, analysed 82 international city destinations and found that their tourism sectors' recovery was well under way after the Covid-19 pandemic that paralysed travel for nearly three years.
According to the report, 10 of the 82 cities analysed are projected to exceed pre-pandemic levels in terms of direct travel and tourism gross domestic product contribution to their economies this year. (NewsWire)