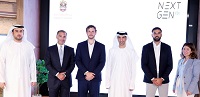 Holiday Swap, a vacation exchange and booking platform with more than 1 million monthly users, will establish its global headquarters in Dubai Internet City, supporting 500 jobs in two years, including 250 highly skilled employees.
According to Khaleej Times, the community-based online platform enables holidaymakers to swap homes or rent directly from one another at minimal or zero cost. 
It has more than 120,000 listed properties across 185 countries, including the UAE, where it has approximately 1,200 listings. It aims to expand its listings to 400,000 properties by the close of 2023.
The company is entering the UAE as part of the NextGenFDI programme by the Ministry of Economy to help businesses from around the world to establish and scale their operations in the Emirates.
"The onboarding of Holiday Swap reflects the continuing success of the NextGen FDI programme in attracting pioneering companies to the UAE and fostering the development of cutting-edge solutions across a diverse range of economic sectors. The partnership is not only a testament to the UAE's position as a world-class hub for innovation but also the scale and sophistication of its travel and tourism industry, which contributed Dh167 billion to the country's GDP in 2022, a growth of more than 60 cent," said Dr Thani bin Ahmed Al Zeyoudi, Minister of State for Foreign Trade.
"Establishing our global operations HQ in Dubai Internet City positions us perfectly to leverage the UAE's reputation as an international leader and a powerhouse in the travel and tourism industry. The collaboration will enable us to accelerate our growth, create new job opportunities, and contribute to the UAE's vision for technological advancement," said James Asquith, founder and CEO of Holiday Swap. (NewsWire)