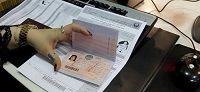 The Public Prosecution in Dubai took to social media to issue an important reminder about the law regarding visas and residence permits.
The authority said that the penalty for forging a visa, residence permit or another official document related to these, with the intention of breaking the law, is a jail sentence of up to 10 years.
According to Khaleej Times, the penalty does not only apply to those who forge documents but also to those who use such documents with the knowledge that they are forged.
Last year, more than 10,500 illegal residents were prosecuted in the UAE, according to authorities.
These 10,576 immigration cases included absconders; those who entered the country illegally; those who forged residence permits or visas; people working for another company without an official permit; those whose residence visas had expired; and those caught working on visit visas; among others. (NewsWire)