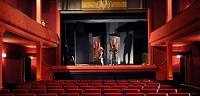 Hiring has increased in the UAE and the local job market grew exponentially in the post-pandemic period. 
According to Khaleej Times, now, a UAE-based company plans to open 50 cinemas across the UAE and recruit hundreds of employees in the coming years.
Line Investments & Property, the shopping mall development, and management arm of Lulu Group International, signed an agreement with Star Cinemas to manage the theatres, which will showcase movies in Arabic, Hindi, English and other languages.
"We already have cinemas in malls. Now, we are expanding our partnership with Star Cinemas because they are bringing all the films to GCC. It will be a good opportunity to join hands with them to operate cinemas," MA Ashraf Ali, executive director of Lulu Group International, said after signing an agreement with Star Cinemas last week.
Ali revealed that they will require a "considerable amount" of manpower as the group plans more than 50 cinemas, and each one will have a minimum of 25-30 people to manage the property, hence, requiring up to 1,500 employees to operate the cinemas.
Last week, Line Investments & Property and Star Cinemas signed a deal to open 22 additional screens to the existing 76 screens operated by Star Cinemas. The event was attended by MA Ashraf Ali, Ahmad Golchin, founder and chairman of Phars Film & Stars Cinema, and other officials.
The companies said the signing of JV has put Star Cinemas as the second largest cinema operator in the UAE, based on screen count. Under the agreement, 3 screens will be opened at Al Raha Mall, 9 screens at Al Wahda Mall, 6 screens at Al Foah Mall, and 4 screens at Barari Outlet Mall in September 2023.
The agreement will also cover opening Star Cinemas in Dubai Silicon Oasis Mall, Sharjah Central Mall, and RAK Mall in Ras Al Khaimah.
Golchin said work at Dubai Silicon Oasis would commence soon, followed by Sharjah Central and RAK Mall. (NewsWire)