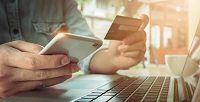 The Dubai Public Prosecution introduced a smart fine payment service, enabling individuals convicted in criminal cases to pay fines electronically and have their travel restrictions automatically revoked.
According to Khaleej Times, the smart service allows payment related to criminal judgements, in which fines are issued as judgements in presence, absenteeism, and legal presence. 
This service covers all stages of litigation, including primary, appeal, and cassation. After the fine payment, the smart service coordinates with the Dubai Police to cancel arrest warrants and halt searches for individuals.
Shamsa Salem Al-Marri, Director of the Strategy and Institutional Excellence Department, Head of the Services Improvement Team, explained that the smart payment service for fines is a digital proactive service added to the package of prosecution services that are in line with the 360 ​​services policy, which has become a way of life in which all sectors and institutions.
She indicated that the service will reflect positively, fulfilling customer happiness and reducing the need to personally visit the Public Prosecution headquarters to announce the default judgement and pay fines. 
The service will also facilitate the payment process and procedures using electronic means and modern payment tools, indicating the goal of continuous improvement and continuous follow-up is to extract efficiency and effectiveness.
Payment method
The Dubai Public Prosecution indicated that the customer can pay the fine amount by choosing the three methods.
— Individuals can click on the attached link in the text message sent by the Public Prosecution. The customer, after clicking on the link, will be redirected to a page to login using the digital ID, and then pay the fine electronically.
— Fines can be settled through payment machines for an electronic payment process or at cash payment machines. These machines accept banknotes of all denominations until the fine is fully paid. Alternatively, fines can be paid electronically using cards.
— Fines can be paid on the website of the Public Prosecution, where the customer can log in by using the digital ID, and pay the fine electronically. 
After successful payment of the incurred fines, the customer will receive a text message from the Public Prosecution confirming the completion of the payment process. 
This message will also indicate the cancellation of the arrest warrant and the stop of the search for the individual. (NewsWire)