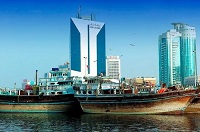 Dubai International Chamber, one of the three chambers operating under Dubai Chambers, has announced details of its upcoming strategy to support the global expansion of local private sector companies as part of its 'New Horizons' initiative, which was launched earlier this year.
According to Zawya, the chamber updated representatives from member companies on the latest developments during a special meeting at Dubai Chambers' headquarters, where it shared details of the initiative's successful trade missions to Central Asia, the United Kingdom, and South Africa during the first half of 2023.
Plans were also revealed for upcoming roadshows to explore business opportunities in Asia, Europe, and East and West Africa later this year, as well as the Baltic region, ASEAN countries, Turkey, and other African markets during 2024.
Mohammad Ali Rashed Lootah, President and CEO of Dubai Chambers, commented, "Dubai Chambers remains committed to supporting its members on their global expansion journeys in strategic markets worldwide. The New Horizons initiative assists in driving the international growth of member companies and will play a vital role in achieving Dubai's goal of increasing non-oil foreign trade to AED2 trillion by 2026, in line with the emirate's five-year trade plan. We aim to help 100 Dubai businesses expand globally by the end of 2024."
The first roadshow in the New Horizons initiative took place in March and targeted Central Asia, with visits to Uzbekistan, Kazakhstan and Kyrgyzstan. This was followed by trade missions to the Retail Technology Show in London in April and SAITEX in Johannesburg in June, with 38 companies participating in the three delegations.
More than 550 business meetings were arranged during the three roadshows to explore potential partnerships and discuss opportunities to strengthen bilateral ties and cooperation.
The initiative enables companies to join international trade missions and gain first-hand knowledge of establishing and operating their businesses in priority markets. (NewsWire)