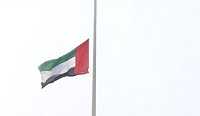 The UAE's national flag is flown at half-mast across the country today to mark the death of Sheikh Saeed bin Zayed Al Nahyan, representative of the Ruler of Abu Dhabi, and brother of the President, His Highness Sheikh Mohamed bin Zayed Al Nahyan.
Khaleej Times reported that according to the Presidential Court, Sheikh Saeed passed away on Thursday. Earlier, it noted that the UAE leader was suffering from a health problem.
These flags will remain at half-mast throughout the three-day mourning period until Saturday.
On Thursday, funeral prayers will be held after the Dhuhr prayer at the Sheikh Sultan bin Zayed The First Mosque in Al Bateen, Abu Dhabi.
Condolences will be received at Al Mushrif Palace in Abu Dhabi from 4:30-6:30 pm on Thursday, and from 10 am-12 pm and 4:30 am -6:30 pm on Friday and Saturday, the Presidential Court added. (NewsWire)