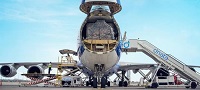 Airport and travel services company dnata, a part of the Emirates Group, plans to hire 7,000 staff from around the world amid expectations of stronger travel demand and a profit increase in the 2023-2024 financial year.
Of the 7,000 positions, more than 1,500 people will be recruited in Dubai, dnata group chief executive Steve Allen told The National.
Dnata aims to recruit airport customer service agents, baggage handlers, kitchen staff for in-flight meal catering, call centre operators and travel agents.
The Dubai-based company is also seeking to fill a "large number" of specialist roles – from chefs to data scientists, as well as senior management positions, during the current financial year, which began on April 1.
In its last fiscal year, dnata grew the number of employees by 17 per cent on an annual basis, expanding its workforce to 46,000 people.
"This year we're looking at about another 7,000 people [including over 1,500 people in Dubai] to be brought onboard as our volumes continue to grow,," Mr Allen said during an interview at Emirates Group headquarters in Dubai.
"There's some attrition as well as some people leaving, so that's not cumulative growth, but for replacement and growth."
The company, which was founded in 1959, handles a range of aviation services. Its airport operations include ground-handling at 86 airports and cargo services at 48 airports.
Another business division handles in-flight catering and retail while another unit sells travel services.
Dnata's hiring spree is part of a "mammoth" global recruitment drive by the Emirates Group, which includes Emirates airline, as it pushes to boost its workforce for its next major growth phase.
The move comes as the global aviation industry faces a labour shortage in all areas of the business, from pilots to baggage handlers, ticket agents, flight attendants and aircraft mechanics.
With the sector seeking to ramp up operations in response to booming travel demand, competition for skilled talent is fierce, particularly so after many aviation workers were laid off during the Covid-19 pandemic, forcing them to move into other occupations. 
Europe, the US and Canada remain "challenging" environments for the recruitment of aviation workers, Mr Allen said.
Asked how dnata is approaching its recruitment drive during the global labour crunch, Mr Allen said the company was offering "attractive" packages with increased pay over the last fiscal year to match the rising cost of living.
Making dnata a "great place to work" and offering career growth opportunities is also an important part of the company's approach to attract and retain talent, he said.
Currently, the state of the aviation industry is "more controlled, steadier and definitely more planned" than last year, when airlines were reactively dealing with sporadic border reopenings, he said.
The reopening of China's borders to international travellers this year is another bright spot and has given dnata a "huge" boost to its business in the Asia-Pacific region.
"The story of this year is a much-improved position, continued growth and continued stabilisation of the aviation industry," Mr Allen said.
He expects Chinese international travel to strengthen later this year around September, with a bigger influx of Chinese visitors to Dubai and other destinations. (NewsWire)