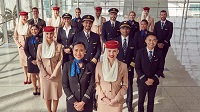 The Emirates Group on Tuesday launched a major recruitment drive to fill vacant positions for hundreds of roles for cabin crew, pilots, engineers, IT professionals and customer service agents.
According to Khaleej Times, the recruitment drive has been rolled out for its major subsidiaries, Emirates airline and airport services provider dnata.
"Our focus is on recruiting the best talent, the brightest minds, and those most fit for the various roles that will support and drive our future growth and expansion," said Oliver Grohmann, senior vice-president for human resources at the Emirates Group.
"We are using the latest technologies, such as digital assessments, artificial intelligence, and other top-notch recruitment systems to shortlist, select and respond to candidates in the most efficient and effective ways," he said.
In the last financial year, the group received around 2.7 million applications globally for roles across the organisation.
The group employed 102,379 staff at the end of the 2022-23 financial year, an increase of 20 per cent or 85,219 over the previous year.
Emirates, flydubai, and other local airlines have launched massive recruitment drives since late 2021 as the world began to come out of the pandemic.
The group announced a record profit of Dh10.9 billion in 2022-23 as compared to a loss of Dh3.8 billion in the previous year.
Dubai's flagship carrier also continues to expand its route network and receive new aircraft from Airbus and Boeing, hence requiring more staff to meet its needs. The airline will add Airbus A350s and Boeing 777-Xs to its expanding fleet next year.
Emirates will hold open days and invite-only events across hundreds of cities all year round. The recruitment process is completed within a day, and candidates are contacted within 48 hours of the assessment.
To recruit pilots, Emirates is holding a series of open days in Dublin, Manchester, London Gatwick, and London Stansted in August. An online information session is slated for July 19 at 1pm, Dubai time.
Since 2022, the airline has added over 900 new pilots to its three recruitment programmes – direct entry captains, accelerated command, and first officers.
Emirates Engineering is planning open days in Australia, Canada, Brazil, South Africa, and the UK in July and August to hire 75 structural technicians along with over 400 positions in aircraft maintenance engineering and engineering support roles.
The group aims to recruit over 400 IT professionals with the right skills for a range of roles in software engineering, DevOps, hybrid cloud, agile delivery, technical product management, digital workplace, cybersecurity, IT architecture, innovation, and service management.
For customer service roles, Emirates Group is looking for individuals who will receive extensive training prior to joining Emirates Airport Services, dnata, marhaba or the contact centres. Those in customer service roles can work either in full-time or part-time positions and enjoy the flexibility to fulfil their lifestyle and career goals. (NewsWire)