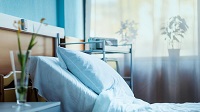 Awadh Seghayer Al Ketbi, Director General of the Dubai Health Authority (DHA), inaugurated a new hospital for the NMC Healthcare Group at Dubai Investments Park (DIP), Dubai, opening more than 250 job opportunities.
According to Khaleej Times, the new 51-bed NMC Specialty Hospital, which spans an area of 125,000 square feet, is an extension of the NMC Royal Hospital, which was commissioned in 2014 with a capacity of 67 beds.
The opening ceremony was attended by Omar Al Mesmar, the general manager of the Dubai Investments Park, David Hadley, the CEO of NMC Healthcare Group, and several doctors and officials from the group.
Al Ketbi toured the hospital which includes four operation theatres, seven ultra-modern ICU beds, five dialysis rooms and day-care surgery units.
Al Ketbi also reviewed the specialised services provided by the hospital in the field of orthopaedics, paediatrics, plastic surgery, pulmonology, urology, internal medicine, nephrology and critical care medicine.
He praised the efforts behind the accomplishment of this medical institution that aims to serve the healthcare needs of the community members.
Al Ketbi highlighted the importance of partnership between the public and private health sector in Dubai and the need to foster and promote quality healthcare investment across diversified medical fields to provide patients with access to the highest quality of specialised and accessible healthcare as well as to further bolster the Emirate's medical tourism strategy.
He commended the role of the private health sector and their efforts in achieving the ambitious goals outlined in the Dubai Economic Agenda (D33) to enhance Dubai's global status as the best city in the world to live and work in and the preferred destination for business, investment, and tourism. (NewsWire)