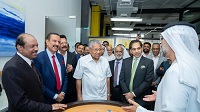 The Indian state of Kerala has launched its first overseas Infinity Centre for the startup ecosystem in Dubai. 
According to Khaleej Times, the initiative opens doors to global opportunities for Malayali innovators to get access to new partnerships and investments.
Kerala Chief Minister Pinarayi Vijayan launched the centre as part of Kerala Startup Mission (KSUM) – a central agency for entrepreneurship development and incubation activities.
Inaugurating the centre at an event in Dubai, Vijayan pointed out that Kerala missed the bus to accelerate and grow in the IT sector after being the first state in India to establish a Technopark in the capital city of Thiruvananthapuram way back in 1990.
"The state government has been exploring opportunities to develop and support the startup ecosystem."
Through persistent efforts of the state government, Kerala currently has a network of 4,400 startups, 63 incubators, 425 mini-incubators and 1 million square feet space for incubation.
"We expect to generate 20,000 more jobs this year. We are seeing a startup explosion," he said and noted that the emergence of the startup system has changed the mindset of youth as they are no longer seeking jobs but creating them.
"Some of the startups have attracted solid foreign investment and global recognition."
Role of Infinity Centre
Dubai-headquartered Startup Middle East has been selected as the Infinity Centre's partner in the UAE. 
The platform's founder Sibi Sudhakaran and KSUM's CEO Anoop Ambika signed an agreement to formalise the partnership.
Talking about the infinity centre in Dubai, the chief minister said, it will be a launch-pad for startups in Kerala and an opportunity for NRIs to become entrepreneurs and be part of the growth story.
"Startup Mission's Infinity Centre aims to link the world and explore foreign markets."
KSUM plans to start the Infinity centres in locations across the world as a pilot, including the US, Australia and Europe.
The centres aim to be a one-stop destination for Indian expats to become entrepreneurs through collaborations with Kerala-based start-ups and KSUM. 
Such centres will act as a global desk in select countries where the NRI community can engage, co-create and set up businesses – either in their resident country or India. (NewsWire)