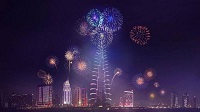 Mark your calendars, the UAE's Ministry of Human Resources and Emiratisation (MoHRE) has announced the official Eid Al Adha holidays for the private sector. 
According to Khaleej Times, employees will get a four-day break to mark Arafat Day — the holiest day in Islam — and Eid Al Adha, also known as the festival of sacrifice.
The ministry said the break will be from Tuesday, June 27, to Friday, June 30 (Dhul Hijjah 9 to 12 as per the Islamic Hijri calendar). The break extends into a six-day break for those with a Saturday-Sunday weekend. Employees will report back to work on Monday, July 3.
This will be the longest paid holiday this year. After coming out of the weekend before the Eid break, residents need to work on just Monday, June 26, before enjoying the rest of the week off. Some are taking the Monday off to make it a nine-day break.
The holiday falls just before the two-month summer break in the UAE. This translates into more vacation options for residents.
Saudi Arabia announced that Monday, June 19, is the first day of Dhul Hijjah. Arafat Day will be observed on Tuesday, June 27, while the first day of Eid Al Adha will fall on Wednesday, June 28.
Haj, one of Islam's five pillars, is the pilgrimage to Makkah in Saudi Arabia that every Muslim must perform at least once in their lifetime if they are able. (NewsWire)