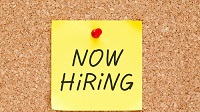 It is a common misconception that hiring slows down during the summer months. But the UAE is witnessing a surge in job opportunities. 
Many job seekers who traditionally associate recruitment with the winter season will be in for a surprise as numerous positions have opened up across various sectors this summer.
According to Khaleej Times, the mindset that hiring is limited to the winter months is being eliminated as companies in the country are actively recruiting professionals in key industries.
According to industry experts, the rise in summer job opportunities can be attributed to various factors. With the economy steadily recovering from the impact of the global pandemic, companies are actively expanding their workforce to meet growing demands.
Many recruiters said that certain industries in UAE, such as retail and hospitality, experienced a surge in hiring during colder months to accommodate a large number of tourists in the past. "However, after Covid, hiring has become consistent throughout the year, as UAE now attracts tourists and business delegates attending conferences and events all year round. We remain busy throughout the year," said Mandiip Singh, managing partner, Matrix Middle East — Executive Search.
According to recruiters, UAE has experienced an exponential growth in recent years, making it an enticing destination for people from all over the world to live and work. The most in-demand jobs are in industries like real estate, BPOs, banks, IT companies, etc.
Nikhil Nanda, Director at Innovations Group, said that last summer they had around 200 clients and 3,300 jobs, "and this summer, we are already working with 150 clients for 1,700 positions, and with a forecast to cross the last year's numbers," said Nanda.
"The market is booming and has become very competitive, companies are at their best in strategic planning on recruitment and producing various positions to fulfil their requirements. Many of them are forecasting the hiring to create the pipelines and database for future roles," added Nanda.
Recruiters have also urged job seekers to spruce up their CVs and take advantage of online professional platforms and staffing agencies, to showcase their skills and know more about the companies they're targeting.
Instagram, the new job search portal?
Instagram has emerged as a popular platform for companies and hiring managers to advertise their vacant positions.
Toufic Kreidieh from Brand For Less, who is very active on social media platforms, is promoting vacancies on his handle. He said that this summer they will be hiring in many positions ranging from sales, marketing, and media, to IT, government relations, and much more.
Similarly, there are hundreds of companies posting on Instagram inviting jobseekers to leverage the opportunity. HKZ Interior Decoration LLC has posted vacancies for Engineers, Interior designers, sales executives, administrative assistants, and more.
Many real estate firms have also posted vacancies for multiple positions on their Instagram handles. Done and Dusted Realty is hiring property advisors and individuals who are passionate about helping clients. Another realtor, Dmaxx properties have posted walk in interview today from 10 am to 5 pm.
Recruiters have urged job seekers to stay informed and proactive during the summer months, as these unforeseen opportunities may present a chance for career advancement or a fresh start. (NewsWire)