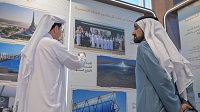 The latest phase of the world's largest single-site solar park inaugurated in Dubai on Sunday will power 270,000 homes. 
According to Khaleej Times, this clean energy will help reduce over one million tonnes of carbon emissions annually.
His Highness Sheikh Mohammed bin Rashid Al Maktoum, Vice-President and Prime Minister of the UAE and Ruler of Dubai, inaugurated the 900-megawatt (MW) fifth phase of the solar park that's named after him.
Featuring a total investment of Dh50 billion, the Mohammed bin Rashid Al Maktoum Solar Park is expected to reduce 6.5 million tonnes of carbon emissions annually when completed. The massive park in Seih Al Dahl is based on the Independent Power Producer (IPP) model.
The latest phase, which saw over 6.8 million safe working hours, was completed ahead of schedule (June 2023 instead of December 2023) despite the implementation having commenced during the Covid-19 pandemic.
The fifth phase is one of the first projects in the Middle East to use Artificial Intelligence (AI) as part of an advanced robotic cleaning system for the operation and maintenance of photovoltaic panels. The total area of the fifth phase is approximately 10 square kilometres.
"The UAE is at the forefront of global efforts to create a more sustainable future for all of humanity by taking concrete action to transition to renewable energies and combat climate change. In 2023, the UAE's Year of Sustainability, and the year in which we are hosting COP28, we continue to place sustainability at the heart of our development plans and make new strides in shaping a truly environmentally friendly economy. The completion of the fifth phase of the Mohammed bin Rashid Al Maktoum Solar Park takes us another major step closer to realising our vision for an economy fully powered by clean energy."
He added that Dubai has developed a clear strategy and pathway to achieve its targets of generating 25 per cent of energy requirements from renewable sources by 2030 and 100 per cent by 2050.
"Dubai is resolute in its commitment to becoming one of the most sustainable cities in the world, with diverse initiatives. The rapid progress of the Mohammed bin Rashid Al Maktoum Solar Park project is yet another example of our strong ethos of public-private partnerships."
The Dubai Electricity and Water Authority (Dewa) has implemented this phase using the latest solar photovoltaic bifacial technologies with single axis tracking to increase energy production and the plant's efficiency.
The Dh2 billion phase features a partnership between Dewa (60 per cent) and a consortium led by ACWA Power and Gulf Investment Corporation (40 per cent) through Shuaa Energy 3. The Dewa achieved a world record by receiving the lowest bid of $1.6953 cents per kilowatt hour (kWh) for the fifth phase.
The total capacity of the solar energy projects commissioned at the solar park has reached 2,427MW. Dewa has increased the share of clean energy in Dubai's mix to over 16 per cent. (NewsWire)