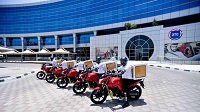 RTA's Dubai Taxi Corporation (DTC) has deployed a fleet of 600 motorbikes to provide delivery services for commercial enterprises in the private sector. 
Khaleej Times reported that this service provides distinctive and reliable transportation and delivery solutions for enterprises including delivery service companies via smart platforms and apps, restaurants and retailers. 
Starting the service with 600 motorbikes, DTC intends to increase to 990 motorbikes by the end of 2023 year.
Modern bicycles
"DTC offers cutting-edge motorbikes driven by highly efficient and qualified drivers who conform to best practices to ensure safe delivery services to customers. DTC's fleet of motorbikes are equipped with safety features monitored by the latest tracking devices as well as a 24/7 control centre. DTC's professional team is eager to provide top-notch services in terms of operation, tracking, and maintenance, and the service preserves the identity of the brands of companies in contract with DTC," said Mansoor Al Falasi, CEO of DTC.
DTC strives to maximise customer satisfaction by enhancing services, using cutting-edge technologies in numerous industries, and adhering to high international standards. The overarching goal is to support a sustainable transportation sector in Dubai, and the city's global vision of being pioneers in providing safe, reliable, and smart transport services.
Delivery services
"The delivery service provided by DTC is part of its efforts to support Dubai's delivery services sector and economic development as well as to provide new growth prospects for commercial businesses. The increasing demand for the delivery services in Dubai as well as the development exhibited in the expansion plans for this service underlines DTC's success in providing innovative, safe, and sustainable solutions for delivery services," concluded Al Falasi. (NewsWire)