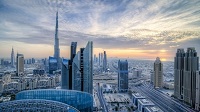 Those paying bills, rent, or generally going out in Dubai may have already guessed it, but now it's official: Dubai has been named among the world's most expensive cities to live for expats in 2023, according to Mercer's cost of living ranking.
According to What's On Dubai, both Dubai and Abu Dhabi have seen significant increases since last year: Dubai climbed 13 places to 18th on the ranking and Abu Dhabi climbed 18 places to 43rd position.
As well as being the 18th most expensive in the world, Dubai is the second costliest city to live in the Middle East for expats, after Tel Aviv.
Hong Kong, Singapore, and Zurich are the three most expensive cities to live in for international workers while Islamabad, Karachi, and Havana are the cheapest.
The ranking compares the cost of more than 200 items in each location, including housing, transportation, food, clothing, household goods, and entertainment. See the full list here: mercer.com
The report also states that many economies are still absorbing the shocks of Covid-19 and the Russia-Ukraine crisis, as well as dealing with exchange rate and inflation fluctuation.
Sixth best place for expats to live…
Last year, the UAE was named one of the top 10 of the world's best places for expats. 
The 2022 survey ranked the UAE as the sixth best place for expats to live in 2022, which makes it the only country in the Middle East to make it into the top 10. 
The country scored highly in most categories with its expat population appreciating its leisure facilities, easy travel and transit options, and the fact that 80 percent of expats believe their career prospects have improved. (NewsWire)