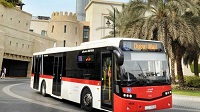 Dubai's Road and Transport Authority has a comprehensive list of fines for violations passengers on public transport can commit.
According to Khaleej Times, if a passenger is found violating rules on RTA public transport, such as buses or Dubai Metro, he/she must pay the specified fine. Residents commuting via Dubai Metro found eating and drinking in areas where it is prohibited will be fined Dh100. RTA bus commuters will incur the same fine for eating and drinking in prohibited places.
However, if commuters are caught drinking alcohol inside public transport modes, facilities and services or smoking in such areas, they will be penalised Dh200.
Here are the ways in which RTA fines for violations on public transport can be paid:
The passenger can pay the fine to the inspector who issued it on the spot. When the fine is issued, the passenger receives a notification from RTA specifying the fine amount.

The RTA website has a dedicated portal through which you can pay fines.

RTA Customer Happiness Centres around the city offer fine paying services as well. All you need is the fine number received from RTA at the time of issuing.

For bus passengers, fines can be paid through self-service machines.
Disputing your fine
Do you feel like you were fined unfairly? RTA has a provision by which you can dispute your fine. Here are the steps you should take:
Make sure you have all the required documents.
For Metro: These include the fine number stated on the fine notification, fine payment receipt (if the fine is paid through the inspector or service centres), copy of the fine notification form, copy of the nol card or the card number printed on the backside of the nol card, copy of the visit visa + entry stamp + passport copy (for customers on a visit visa), and any other document that can support the appeal application.
For bus: Fine number stated on the fine notification, fine payment receipt, letter with the bank account number, Emirates ID
You can dispute your fine via email only for Metro, and through the RTA website for bus, and must do so within 30 days of the fine being issued.
For Metro: Send an email to ask@rta.ae with the subject title 'Fine appeal' and the fine number; attach documents to the email.
For bus: Go to the RTA website and upload the required documents.
You will receive an SMS from RTA with your case number and the expected response date. When your case has been decided, you will get a notification from RTA about whether your appeal has been accepted or rejected. If it has been accepted, the fine amount will be refunded into your account. (NewsWire)