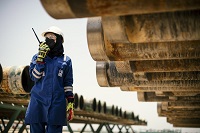 State-owned oil giant, ADNOC will partner with the Emirati Talent Competitiveness Council (ETCC) to create 5,000 jobs for UAE nationals in the private sector by 2027, the company announced at the Make it in the Emirates Forum on Thursday.
According to an update from the Oil and Gas Middle East website, the hiring will take place through ETCC's Nafis programme and is aimed at employing UAE talent for skilled jobs, in the oil company's supply chain.
Moreover, the entity will open several programs and incentives to further increase the nationals' skills and competitiveness in their respective fields.
ADNOC's efforts in nurturing local talent
The state-owned oil giant, in collaboration with its suppliers and partners, promote initiatives to nurture local talent.
In 2022, the company hosted six private sector career weeks so as to match local talent with employment opportunities in its registered partners and suppliers in the private sector, the statement said.
"The agreement will also strengthen cooperation frameworks in order to achieve the strategic goals of increasing the rate of Emiratisation in the private sector and empowering our local talent in the labor market. Through the agreement, ADNOC will provide training opportunities for 1,000 graduates in private companies operating in ADNOC's supply chain through Nafis's Apprentice Programme," ETCC secretary general Ghannam Butti Al Mazrouei said.
The statement also added that Al Mazrouei pointed out his confidence that such cooperation will provide Emiratis with a sustainable opportunity to achieve prosperity and excellence in their career path. (NewsWire)