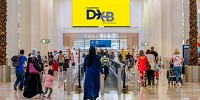 Visitors to Dubai will no longer be granted a 10-day grace period if their tourist visa expires, according to local travel agents and call centre workers.
The National reported that previously, anyone who stayed beyond the validity of their visa were allowed to stay an extra 10 days in the emirate before fines were levied.
Now those who overstay their visa will have to pay a fine of Dh50 per day.
A statement on the removal on the grace period is expected from the Federal Authority for Identity, Citizenship, Customs and Port Security (ICP) on Thursday.
An ICP call centre agent on Wednesday confirmed the end of the grace period for visit visas issued in the UAE. Other emirates had already removed the grace period for visit visas, with Dubai the last emirate to have it in force.
"The 10-day grace period for visit visa holders is not applicable any more. The new rules were implemented recently," the agent told The National on Wednesday.
"If the visit visa holder stays after the expiry date then overstay fines will be implemented. People should apply for a 30-day extension visa to stay legally in the country."
A Dubai-based travel agent also said the 10-day grace period is no longer available.
"Recently we noticed that Dubai scrapped the 10-day grace period for visit visa holders," a representative of the travel agent told The National.
A customer service agent at Amer service centre in Dubai similarly confirmed the end of the grace period.
"Holders of visit visas issued by Dubai immigration should apply for an extension to their visa before the expiry date or leave the country. They can apply for 30 days extension for Dh800," the agent said.
ICP in October revised the daily fine from Dh100 down to Dh50.
A new set of visas were introduced in October last year to allow holidaymakers to stay for 60 days at a time.
The decision to make all entry visas valid for 60 days from the date of issue ― double the previous allowance ― was one of a series of visa changes approved by the UAE Cabinet in April.
Previously, there was no specific visa for tourists and those wishing to visit the UAE applied for 30-, 60- or 90-day visas.
All entry visas are available for single or multiple entry and can be renewed for a further 60 days.
Visitors who stay beyond the time allowed without renewing their visas can also be arrested for staying in the country illegally. Inspection campaigns are regularly carried out to catch offenders. (NewsWire)