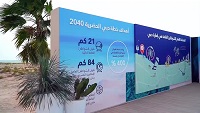 Dubai's coastline will expand by 400 per cent by 2040, it was announced on Thursday. 
According to Khaleej Times, the Dubai Ruler said residents and tourists will be able to explore 105km of public beaches — up from the current 21km.
The services offered at these venues will increase by 300 per cent. These include shops and restaurants, water sports, family spaces and a marine sanctuary.
This came as His Highness Sheikh Mohammed bin Rashid Al Maktoum, Vice-President and Prime Minister of the UAE and Ruler of Dubai, drove down to the Jebel Ali Beach and met top officials associated with the Dubai Urban Plan 2040.
He shared a video that showed Sheikh Hamdan bin Mohammed bin Rashid Al Maktoum, Crown Prince of Dubai, releasing turtles into the sea. The Dubai Ruler is seen applauding as the turtles swim away to start a new life.
"We launched the first urban plan in Dubai in the 1960s. Development in Dubai is continuing and we are still at the beginning. We will continue to provide the best standard of living for individuals and families in services and projects globally," Sheikh Mohammed posted on Twitter.
New urban projects will support the Emirate's economic and tourism agenda for the next decade. (NewsWire)