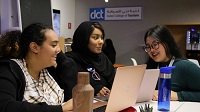 The Dubai College of Tourism (DCT) has unveiled a new scholarship for UAE citizens and residents for its courses, creating a pathway for a job in Dubai's booming tourism sector.
According to Khaleej Times, the specially curated scholarship scheme is applicable for students who enrol before Eid Al-Adha in the hospitality, tourism and events Level 4 certificate programmes.
With major upcoming projects, new and easy visa processes and major brands from around the world ready to invest in Dubai, tourism is booming in the city. In 2022, the emirate's tourism sector contributed $29.4 billion to its economy, according to the World Travel and Tourism Council (WTTC). It is thought that the industry will play a huge role in realising the Dubai Economic Agenda D33's goal of doubling the city's economy in the next 10 years.
How to apply
Those wishing to apply for the scholarship must complete the DCT application form on their website before Eid Al Adha on June 28th, 2023.
To be eligible, the student must pass an entrance exam and attend an interview to confirm eligibility for a scholarship.
The admission screening process requires students to have completed a minimum of 70 per cent in secondary education, passed the English and Math assessments, and successfully completed the interview process. They will then be eligible to apply for the limited number of scholarships available.
Scholarships are offered for DCT programmes in Hospitality, Events and Tourism only.
DCT
The college that provides certificate and diploma courses in tourism, hospitality, retail business, events and culinary arts has affordable fees and a free application process. The scholarship programmes offered cover academic fees, and students applying for scholarships need to be in the UAE and attend the interview in person.
The scholarship, which aims to make world-class education accessible to all, is in line with the goal of the Dubai Economic Agenda, D33 to integrate more Emiratis into the private sector and support talented expatriate youth.
"Our latest initiative, the Eid Al Adha scholarships is in line with the D33 Agenda launched by our visionary leadership to further consolidate Dubai's status as one of the top three global cities," said Essa Bin Hadher, General Manager of DCT.
"We would encourage both Emirati and expatriate students to take advantage of our latest offer and obtain an affordable world-class vocational education. With our commitment to excellence, we strive to develop the next generation workforce that will drive growth and innovation in Dubai's tourism sector." (NewsWire)