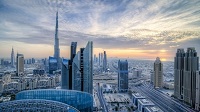 Dubai further strengthened its position as a global destination for foreign direct investment (FDI), recording over 80 per cent increase in FDI inflows and creating over 13,500 jobs last year.
According to the latest data from the 2022 Financial Times 'fDi Markets' report, the emirate retained its top spot for a second successive year, achieving 89.5 per cent growth in total announced FDI projects in 2022, while total FDI capital surged 80.3 per cent over the same period.
Khaleej Times reported that the total estimated FDI capital in Dubai reached Dh47 billion last year as compared to Dh26.07 billion in 2021 while an estimated 38,447 jobs were created in 2022 as against 24,932 jobs in the previous year. The city attracted a total of 1,173 FDI projects last year.
The 'fDi Markets' data for 2022 showed that Dubai ranked first in attracting FDI projects into tourism, business services, financial services, transport and warehousing, consumer products, and software and IT services sectors. The city also emerged as the 2022 world leader in attracting FDI projects in the creative industries cluster, in research and development projects, and in attracting FDI project headquarters by hosting international companies' global and regional headquarters.
The top five source countries for FDI projects were the US, the UK, India, France and Switzerland. While top five source countries for FDI capital were Canada, the UK, the US, India and Switzerland.
The emirate was ranked seventh globally in attracting Greenfield FDI capital and fifth in FDI jobs. In the Middle East and North Africa (Mena) region, Dubai was ranked second in capital and first in Jobs.
The emirate's share in attracting global Greenfield FDI projects grew 1.9 per cent to four per cent, with a record 837 projects enabling the city to achieve the highest growth in global shares across the past seven years, according to data from Financial Times' fDi Markets, the most comprehensive online database on cross-border Greenfield investments.
Earlier this year, Dubai Economic Agenda 'D33' was launched to double the size of the emirate's economy over the next decade, and consolidate its position among the top three global cities. (NewsWire)