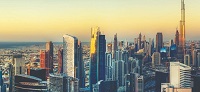 The UAE economy will pick up pace and grow at a faster pace next year as both oil and non-oil sectors would perform better, according to the annual report of the country's central bank released on Wednesday.
According to Khaleej Times, the UAE's gross domestic product (GDP) grew at 7.6 per cent last year, one of the fastest growth rates in the world. 
The growth rate is likely to slow down to 3.9 per cent this year but the pace will pick up again next year and GDP is projected to expand at 4.3 per cent, showed the Central Bank of UAE's (CBUAE) annual report.
"Real-oil GDP is projected to grow by 3 per cent and 3.5 per cent in 2023 and 2024, respectively. The uncertainty surrounding these projections is high, as they depend on the evolution of the Russia-Ukraine conflict, the heightened risk of a global slowdown, and the possibility of further Opec+ cuts to oil production," the report said.
While non-oil GDP growth is estimated to have accelerated to 6.6 per cent in 2022 from 5.8 per cent in 2021 due to a variety of factors, including the removal of most Covid-19-related restrictions and resulting recovery in global travel and tourism, the real estate and construction sectors, expanding manufacturing activity, and increased activity associated with world-class events, such as Expo 2020 Dubai and Fifa World Cup in Qatar.
For 2023 and 2024, Central Bank projected real non-oil GDP growth to slow to 4.2 per cent and then accelerate to 4.6 per cent, respectively, in line with global growth trends. (NewsWire)