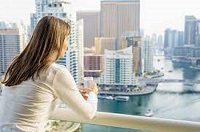 A UAE-based start-up has announced a 'rent now, pay later (RNPL)' scheme for residents in Dubai. Set to launch in July this year, the platform will let tenants pay their annual rent in monthly instalments using a credit card.
Rents in Dubai are typically paid in one to six post-dated cheques, two to 12 months in advance. Digital real estate investment management platform Keyper said with their new RNPL platform, tenants will be able to spread their rent payments over 12 months.
In an interview with Khaleej Times, Walid Shihabi, co-founder and CSO of Keyper, explained that the platform will charge tenants a premium to pay their rent in 12 instalments. The actual amount depends on the number of payments that the landlord expects.
He gave the example of an apartment with Dh100,000 annual rent to be paid in four cheques. "Keyper would offer the tenant Dh105,000 in 12 credit card payments (Dh8,750 monthly), which equates to a 5 per cent premium to go from four to 12 payments," said Shihabi.
How it works
The platform offers the tenant a new rate to allow them to pay in 12 instalments. "Once the tenant has accepted the offer, we connect with the landlord and get their legal approval to offer this service," said Shihabi.
The RNPL enables landlords to receive their rent upfront in one payment if they so choose. They can receive payment upfront at a discounted rate. "The landlord can avail this offer with or without their tenant accepting a Keyper RNPL offer."
If the tenant avails the RNPL offer, while the landlord refuses the upfront rent, there is no additional cost for the landlord. In this case, tenants will pay in 12 instalments (with a higher premium), while the landlord gets the rent as per the original payment term — whether four or six.
Once all parties are in agreement, the contract is signed digitally and the tenant's credit card details collected. After the tenancy goes live, the tenant will be able to access a personalised dashboard with email and SMS payment reminders. Tenants can track their payments, add new credit cards, and access their tenancy contract through dashboards.
For now, the company is focussing on new leases and renewals.
What happens if tenant ends contract early?
There are instances where tenants may have to end their tenancy contract before its term ends. "When a tenant requests an early termination of their contract, we follow industry standards and apply the notice period and cancellation fee agreed with the tenant at contract signing."
The RNPL is not a loan and does not affect tenants' credit score or debt load. "We are not offering a credit product, as Keyper RNPL allows tenants to benefit from paying their rent in 12 payments at an increased rate, while accepting the landlord's requested terms."
Waitlist for pilot programme
Keyper is launching a waitlist for tenants to sign up in the pilot batch. "This means that we are serving tenancies starting in July 2023 … We have limited spots for the next few months. We are allowing tenants outside of our network to sign up to our waitlist and we will be selecting a few of them to be part of our pilot programme. For those that don't make it to the pilot program, we'll be gradually allowing more tenants (to be part of it)," said Shihabi.
Omar Abu Innab, co-founder and CEO of Keyper, said traditional cheque payments are outdated, prone to errors, and do not provide a good user experience for tenants or landlords. "We have designed our RNPL service to address these pain points and to enable our customers, tenants and landlords, to better manage their finance with ease."
According to the company, with the platform, landlords are likely to experience improved tenant retention rates and reduced default rates. "The seamless monthly rent payments through tenants' credit cards reduce the risk of late or missed instalments." (NewsWire)