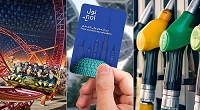 If you live in Dubai, chances are you have a Nol card tucked in your wallet. While this handy slip of plastic is most commonly used to pay for public transport rides, your Nol card has a range of uses you may not know about.
Now, as we're all being encouraged to pay with cards, rather than cash, there's never been a better time to top up your Nol card and start tapping.
According to the What's On Dubai news site, here is a list of things you could do with your Nol card: 
Shopping for groceries
Whether you're doing your weekly supermarket shop or grabbing a quick snack from a convenience store, the list of Dubai merchants that accept Nol cards for payment continues to grow. Whip it out at selected Almaya, Carrefour, Lulu, AllDay and Zoom stores, among others. Just double-check with the cashier before you begin your shopping spree.
Paying your restaurant bill
A number of Dubai restaurants are also accepting Nol card payments, including 800 Degrees Pizza, London Dairy and Burger King, Gloria Jean's Coffee and more.
Seeing a doctor
If there's one place you want to keep your cash in your pocket, it's the doctor's clinic. However, at 17 Medcare branches around Dubai, you can pay for your consultation using a quick tap of your Nol card.
Stocking up at the pharmacy
Need to get medication after that doctor's visit? You can also 'tap and go' when buying medicines and health products at 146 branches of Aster, 23 branches of MedCom and 11 branches of medina pharmacy.
Paying for your RTA taxi ride
Forget about fumbling around for coins in the backseat of the cab. When you use an RTA taxi, you can pay for your journey with a quick tap of your Nol.
Topping up your petrol tank
If you refuel at Enoc, you can use your Nol card to settle the bill. It is currently available at 126 stations.
Getting your car serviced
Tap to pay for your automotive services at any of Autopro's 21 branches around Dubai.
RTA vehicle testing
If you're due to have your vehicle tested or having it registered, you can pay for the service at 12 branches of Tasjeel using your Nol.
Visiting Dubai's public parks and museums
Venturing out with the family to a public park? You'll need your Nol card to pay the Dhs5 entry fee. This includes Quranic Park, Zabeel Park, Al Mamzar Beach Park, Mushrif Park, Creek Park, and more. You can also use it to pay for your ticket at Etihad Museum.
Purchasing theme park tickets
Heading to IMG World of Adventure? Pull out your trusty Nol to purchase entry tickets. Of course, ensure you have enough balance before you get there.
Visit rta.ae/wps/portal/rta/ae/public-transport/nol/nol-merchants for the full list of participating merchants and branches. (NewsWire)