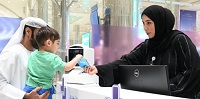 There's even more reason to get excited about arriving in Dubai as children can now stamp their own passports at the new child-only lanes at Dubai International Airport (DXB).
According to Whats on Dubai, the General Directorate of Residency and Foreigners Affairs (GDFRA) announced in a tweet that children between the ages of four and 12 arriving at Terminal 3 can use the new lanes at passport control, where they will be greeted by children's characters Salem and Salama.
The GDFRA added that the new counters aim "to build friendship and create happiness with the city of Dubai from the first step."
The launch of the child-only passport lanes comes not long after DXB announced the new and improved smart gates. With the new gates, passengers arriving at DXB can get through passport control in a matter of seconds, without the need for passports or boarding passes.
The new fast-track process is completely free to use for eligible passengers and makes for a seamless, speedy, and stress-free airport experience. Find out if you're eligible for the smart gates here: whatson.ae (NewsWire)