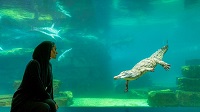 Dubai's latest family-friendly attraction, Dubai Crocodile Park, is all set to open its doors today, just a few days ahead of Eid-al Fitr.
According to Khaleej Times, housing 250 snappy Nile Crocs in a 20,000 square metre facility, the park hosts reptiles of all ages, all thriving in a climate-controlled environment. 
Visitors will get to experience 150 adult crocs, out of which 30 are male, and 120 are female. This has been deliberately done to maintain the 1:4 ratio.
Eight years in the making, the park is tucked in Dubai's Mushrif, right next to Mushrif Park.
Tickets are priced at Dh95 for adults and Dh75 for children between 3 and 12.
The park also features a host of family-friendly experiences, including a dedicated one-of-a-kind natural history museum, an African lake-themed aquarium, and large outdoor landscaped areas.
Visitors are offered the opportunity to witness the magnificent creatures from various points of view, and can enjoy feeding them at the multiple feeding stations.
Additionally, the park boasts multiple dining outlets and has a unique African vibe that runs throughout its architecture and landscape. (NewsWire)