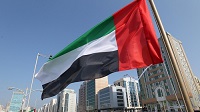 The International Monetary Fund (IMF) on Tuesday projected that the UAE economy will expand at a faster pace next year and lowered the global growth outlook slightly amidst uncertainty in global financial system.
According to Khaleej Times, the IMF projected that the UAE GDP will expand at 3.9 per cent as compared to 3.5 per cent this year.
However, it downgraded the UAE's 2023 growth forecast by 0.7 per cent to 3.5 per cent in line with the global economy. But it revised upward last year's growth from 5.1 per cent in October 2022 to 7.4 per cent in its latest WEO report released on Tuesday.
The UAE Central Bank has also projected 3.9 per cent real GDP growth for 2023 for the local economy. It sees oil GDP to increase by 3.0 per cent and 3.5 per cent in 2023 and 2024, respectively, with the performance in both years subject to the evolution of the conflict in Ukraine, a faster-than-expected global economic growth deceleration, further Opec+ cuts to oil production, and potential declines in production by the other Opec members.
While the World Bank forecasted 3.6 per cent and 3.4 per cent real GDP growth for 2023 and 2024, respectively.
Economists say that the UAE and other oil-producing Gulf economies will slow down this year due to a production cut announced this month for 2023 as well as economies cooling now after a massive bounce back in growth in 2021-22 as Covid-induced restrictions were eased by governments in the UAE and around the world.
Among the other regional economies, Saudi Arabia, Qatar, Kuwait and Oman are projected to expand at 3.1 per cent, 2.4 per cent, 0.9 per cent and 1.7 per cent, this means the UAE will be the fastest-growing economy in the Gulf Cooperation Council (GCC) region.
Soft landing for global economy?
Meanwhile, the IMF said the global economy is yet again at a highly uncertain moment, forecasting its growth falling from 3.4 per cent in 2022 to 2.8 per cent in 2023.
However, tentative signs in early 2023 that the world economy could achieve a soft landing —with inflation coming down and growth steady have receded amid stubbornly high inflation and recent financial sector turmoil.
It warned that troubles in the financial system driven by the failure of the US banks could cut output to near recessionary level.
"Although inflation has declined as central banks have raised interest rates and food and energy prices have come down, underlying price pressures are proving sticky, with labour markets tight in a number of economies," it said.
Advanced economies are expected to see an especially pronounced growth slowdown, from 2.7 per cent in 2022 to 1.3 per cent in 2023.
Among the other major economies in Asia, it forecast 5.9 per cent growth for India, 5.2 per cent for China and 1.3 per cent for Japan this year.
The economies of the US, Canada and France are expected to expand by 1.6 per cent, 1.5 per cent and 0.7 per cent, respectively.
The US outlook improved slightly as the labour market remains strong.
While the UK and Germany will contract by -0.3 per cent and -0.1 per cent, respectively. This will make the UK the worst-performing economy among the G-7 countries this year.
"Although inflation has declined as central banks have raised interest rates and food and energy prices have come down, underlying price pressures are proving sticky, with labour markets tight in a number of economies," it said. (NewsWire)