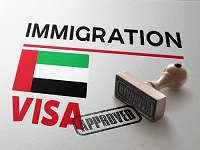 A golden visa is one of the most sought-after documents in the UAE.
But even though it might feel like everyone in town wants one, the process isn't as difficult as you might think.
Particularly now, as details of the "one-touch" golden visa service have been revealed, Time Out Dubai reported.
Designed to make it easier for all concerned, the system has been put together by the Federal Authority for Identity and Nationality, Customs and Ports Security (ICP).
It means that, provided you meet the specified requirements, you can complete your golden visa application at the push of a button – via the ICP website.
The new service doesn't only apply to golden visas, either.
If you visit the ICP's Smart Service page, a range of options are available to you – including the issuance of visas, the regularisation of status, renewal services and more.
You can also access these services via the UAEICP app.
If you do manage to obtain a golden visa, you have residency in the UAE for five to 10 years.
This is not tied to a particular employer, nor does it need to be renewed every two or three years.
It means that expats with a golden visa are eligible to live, work and study in the country without the need for a national sponsor. (NewsWire)