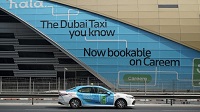 Dubai Taxi will hold walk-in interviews to recruit taxi drivers and bike riders in Dubai, offering a salary of up to Dh2,500 plus commission to drivers, Khaleej Times reported.
The jobs are open to all nationalities aged between 23 and 50 and candidates should be holding UAE and GCC licences. People who don't have driving licences can also apply for the taxi driver's job.
In addition to a Dh2,000-2,5000 monthly salary, drivers will also get health insurance and accommodation during their employment.
Walk-in interviews will be held on Friday, March 31, from 7 am to 11 am at Privilege Labour Recruitment Office M-11, Abu Hail Centre, Dubai.
Interested candidates are advised to bring copies of their residence visa, UAE national ID, driving licence, passport, CV and three photos with white backgrounds.
For the job of the bike rider, candidates should have a motorbike licence. The company will offer Dh7.5 per delivery. Other benefits will also be provided to the selected candidates.
Hatim Maskawala, managing director, Métier – an HR consulting firm, said demand for delivery drivers increases during the holy month of Ramadan because many people prefer to open their fast in the comfort of their homes and have their meals delivered to them.
"Restaurants and food delivery companies may need to hire more drivers to meet the influx of orders," he said. (NewsWire)