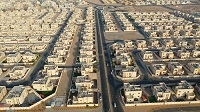 The Sheikh Zayed Housing Programme (SZHP), an initiative under the Ministry of Energy and Infrastructure (MoEI), has issued 432 decisions for housing aid valued at Dh298.7 million. 
According to Khaleej Times, this includes applications for house construction, completion, purchase, maintenance, and upgrade.
The move is part of the Initiatives of the UAE President and is pursuant to the order of UAE President His Highness Sheikh Mohamed bin Zayed Al Nahyan to complete all housing grant applications submitted to the Programme, at a total cost of around Dh2.3 billion.
Suhail bin Mohammed Al Mazrouei, Minister of Energy and Infrastructure, said: "As we welcome the holy month of Ramadan, the month of giving, SZHP continues its endeavours to enhance family stability, ensure a decent living, and improve the quality of life of UAE citizens. The UAE's wise leadership is deeply invested in the government housing sector as it helps build a cohesive society that can contribute to the progress of our nation."
Eng Mohamed Al Mansouri, Director of SZHP, said: "We have set ambitious plans to meet the growing housing needs of UAE citizens. We work closely with our partners from the federal and local government, the private sector, and the banking sector to achieve these plans. The Programme follows in the steps of the founding father, the late Sheikh Zayed bin Sultan Al Nahyan, by contributing to the social well-being and prosperity of the people." (NewsWire)