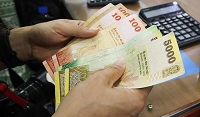 The Sri Lankan rupee has slightly appreciated against a basket of Gulf currencies today, according to the Central Bank of Sri Lanka. 
The selling rate of the UAE's Dirham has dropped from yesterday's rate of Rs. 91.82 to Rs. 91.70 today.
The selling rates of Bahrain and Kuwait Dinars have reduced to Rs. 893.30 and Rs. 1096.85, respectively.
The selling rate of the Oman Rial has dropped to Rs. 874.63, while Qatar and Saudi Riyals are being sold at Rs. 92.27 and Rs. 89.66, respectively. (NewsWire)