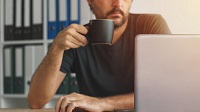 The UAE is set to introduce a flexible work permit that will allow people of all skills to take up freelance jobs in the country, a minister told Khaleej Times.
Abdulrahman Al Awar, Minister of Human Resources and Emiratisation, said this new permit — which is expected to be rolled out by the third quarter of 2023 — enables freelancers to work within the country or from any part of the world.
"We are going to introduce something new which is the freelancing work permit for all skill levels…Besides high-skilled people, low-skilled people can have flexible work permits that allow them to work for themselves and work with others — as long they are within the umbrella of the law and have done the proper registration with the ministry," Al Awar said on the sidelines of the 'Remote' forum held on Wednesday in Dubai.
"This will hopefully come out this year by the end of third quarter."
The minister also reaffirmed that new policies are being developed to support all kinds of flexible and remote work.
In April 2022, the UAE announced a raft of new visas and residency permits that are expected to benefit the country's economy while attracting and retaining new talent and skilled workers from all over the world.
With such flexible work permits, talents won't have to be tied to employers. "In the new policy, you work for yourself. It's an adhoc job where you decide (what kind of work you wish to take up)," the minister explained.
Such a setup presents some advantage to companies, too, he added. "Some employers feel that this is more economical for them because they don't have to take risks and decide if they want to continue with an employee or not. On the other hand, the employee is not tied to one type of organisation. This will enhance productivity in the labour market increasing people's value in the workforce."
24,000 new jobs
With such flexible work opportunities, as many as 24,000 jobs can be created by 2024, Al Awar said.
This will attract different people with varied skill levels with businesses attracting and retaining a more diverse workforce.
"Two hundred people are working remotely in the ministry. These include men and women. We are looking at increasing the workforce by having 24,000 job opportunities soon. We want to support this trend. We want to attract a workforce and capital by having a supportive legal framework.
"Work opportunities will increase through these job opportunities….I am optimistic that this will increase productivity in the private sector as well," the minister said. (NewsWire)