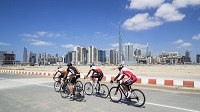 More residents are now pedalling their way around Dubai, thanks to the long, scenic cycling tracks that the emirate has built in recent years.
The Dubai Municipality has constructed tracks — with a total length of 18.44km — inside 10 public parks to serve residents, from Mushrif Park to Al Barsha Pond Park and Al Warqaa. Two more are under construction.
While some bike as a hobby, others have started cycling to work to stay fit and healthy. Whatever your reason for riding the two-wheeler, you'll have to stick to a number of safety rules.
According to Khaleej Times, the Roads and Transport Authority (RTA) has put in place a clear set of regulations. It has indicated speed limits, age limits, safety gear requirements, and other precautionary measures.
To ensure public safety and cyclists' compliance with rules, the authority had also specified fines for violations.
Riding a bicycle or an e-scooter without a permit, for example, is punishable by a Dh200 penalty; while exceeding the 60kmph speed limit can get you fined Dh300.
Here's the full list:
| | |
| --- | --- |
| VIOLATION | FINE |
| Failure to stick to the cycling lanes determined by the RTA | Dh200 |
| Exceeding the 60kmph speed limit | Dh300 |
| Riding a cycle in a manner that endangers the life and safety of others | Dh300 |
| Riding or leaving a cycle on a lane designated for walking or jogging | Dh200 |
| Using an e-scooter or any type of cycle without a rider's permit | Dh200 |
| Carrying a passenger on a pedal cycle or an electric bike that is not fitted with the required equipment; or failure to wear the required vest and helmet | Dh200 |
| Failure to comply with the speed limits prescribed by the RTA for cycle Lanes | Dh100 |
| Carrying a passenger on an Electric Scooter | Dh300 |
| Failure to meet the security and safety requirements | Dh200 |
| Riding a cycle that does not meet the technical requirements | Dh300 |
| Parking a cycle at non-designated areas; or parking in a manner that obstructs thetraffic of vehicles or pedestrians | Dh200 |
| Failure to comply with the instructions displayed on the information signs on roads and cycle lanes | Dh200 |
| Riding a pedal cycle by a person who is under the age of 12 years without being accompanied by a cyclist who is at least 18 years old | Dh200 |
| Failure to dismount the cycle when on a pedestrian crossing | Dh200 |
| Failure to report an accident to the RTA, the Dubai Police, or the ambulance service | Dh300 |
| Using the left-hand side of the road when riding a bicycle or an electric bike, or failure to ensure that the road is clear before changing lanes | Dh200 |
| Riding against traffic | Dh200 |
| Parking or driving a vehicle, or attempting to obstruct traffic, on a cycle lane | Dh300 |
| Having the cycle towed by a vehicle or using the cycle for towing | Dh300 |
| Failure by an entity supervising group training to obtain the RTA's prior approval of the training | Dh200 per person |
| Undertaking independent training | Dh100 per person |