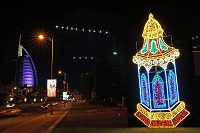 The UAE's Ministry of Human Resources and Emiratisation (MoHRE) has announced the official work timings for private sector employees during the holy month of Ramadan. 
According to Khaleej Times, the ministry said the number of work hours would be reduced by two during the holy month.
Typically, private sector employees work eight hours a day or 48 a week. This will get reduced to six hours a day, or 36 a week.
In a circular issued in this regard, the ministry said: "In accordance with the requirements and nature of their work, companies may apply flexible or remote work patterns within the limits of the daily working hours during the days of Ramadan."
Any additional hours of work may be considered overtime, for which the workers will need to be paid extra.
Earlier, the Federal Authority for Government Human Resources (FAHR) had issued a circular setting the official working hours during the holy month of Ramadan for the employees of federal authorities.
According to the circular, the official working hours for ministries and federal authorities will be from 9am to 2.30pm from Monday to Thursday, and from 9am to 12pm on Friday. (NewsWire)