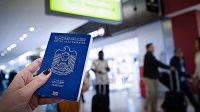 Yet another global index has ranked the UAE passport as the most powerful in the world, according to Khaleej Times.
With a score of 110.50, the Emirati document has entered the top 10 list by Nomad Capitalist for the first time, jumping straight to the number one position from 35 last year.
"This is largely due to recent changes allowing foreigners to apply for dual citizenship … The travel freedoms afforded by a UAE passport, plus the country's business-friendly environment and enviable tax system, put the United Arab Emirates (at the) top of our list for 2023," the tax and immigration consultancy said.
According to its website, the Nomad Capitalist Passport Index was created to highlight the best citizenships in the world. "Our ratings are based not only on the basis of visa-free travel, but also on international taxation laws, global perception, dual citizenship, and personal freedom," the company said.
The ranking of the passport is assessed based on five factors, and each factor is given a different score.
Visa-free travel

Taxation of citizens

Global perception

Granting dual citizenship

Personal freedom
Travel access from the United Arab Emirates has been given a score of 50 percent. The report said: "We relied on publicly available passport data and news sources to rank travel access. We calculate the Travel scores by summing up Visa-free, Visa On Arrival, and eTA countries. Based on that data, we assigned United Arab Emirates a Travel score of 181 as there are 116 countries that United Arab Emirates passport holders can enter without a visa (i.e. visa-free countries), 58 countries that allow United Arab Emirates passport holders to enter by obtaining a visa on arrival (i.e. visa-on-arrival countries) and 7 electronic travel authorization (eTA) destinations,"
For the taxation score, the data was collected from the tax vendors, news sources, and tax authorities. "We assigned the lowest score of 10 to countries that tax citizens no matter where they live, scores of 20 or 30 to countries that allow citizens to relocate to avoid tax, 40 to those that don't tax foreign incomes of resident citizens, and 50 to countries with zero tax. Based on that data, we assigned the United Arab Emirates a Taxation score of 50, meaning that the country has zero taxes," the report said.
For a score on global perception, The UAE is given 10 per cent in total score, from data compiled from the World Happiness Report, the Human Development Index, and "subjective factors from our networks' experiences to determine how each country's citizens are received and recognized," mentioned the report.
The report calculated the Dual Citizenship status by relying on embassy data. This is the ability to hold dual citizenship, ranging from a score of 10 for strictly forbidden to a score of 50 for freely allowed. A score of 10 and 20 were assigned to countries whose citizens are strictly forbidden to hold other citizenships, scores of 30 and 40 to countries whose citizens are often allowed to hold other citizenships but with certain restrictions, and 50 to countries whose citizens are almost always allowed to hold other citizenships. "Based on that data, we assigned United Arab Emirates a Dual Citizenship score of 30, meaning that United Arab Emirates citizens are often allowed to hold other citizenships but with certain restrictions,"
Nomad Capitalist's powerful passport list with a total score:
UAE – 111

Luxembourg – 108

Switzerland – 108

Ireland – 108

Portugal – 108

Germany – 107

Czech Republic – 107

New Zealand – 107

Sweden – 106

Finland – 106

(NewsWire)