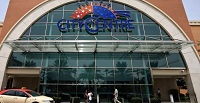 An event run by the Dubai government to advise people on what to do if they overstay their visas had to close early after overwhelming crowds on the first day.
According to The National, organisers are now searching for a new venue which will be announced shortly.
The programme, titled "A Home For All", was planned at City Centre Deira and scheduled to run from 10am until 10pm for three days, starting on Saturday, according to the General Directorate of Residency and Foreigners Affairs in Dubai.
The purpose was to educate residents on visa restrictions, provide legal advice, as well as inform people on ways they can stay in the UAE to search for work.
Officials said it was not a visa amnesty, which have previously attracted thousands of people with expired residency documents.
However, by 1pm on the first day, the site had reached capacity and the event was closed.
Some visitors told The National they had been misinformed by what appeared to be an unofficial video circulating online that said discounts on visa fines were being offered.
One visitor, Midhat, 24, said he received a clip shared on social media about fines being reduced for those who overstayed their visas.
"My maid had received a social media post from her friends about fine reductions for residency violators and she told us about it, so we came", said a man and his wife, who asked not to be named.
When The National spoke to a security guard, he was telling people to go home, saying too many people had shown up.
"I was at City Centre for a meeting when this happened all of a sudden," said Mozelle Couto, who witnessed the crowds rushing into the building.
"I was curious, when I saw the first crowd. Then it stopped for a while and when it began again the crowd was never ending," the marketing student from Heriot-Watt University said.
On Saturday afternoon, authorities tweeted, saying that the first stage of the campaign had been a success, and that a new venue would be announced shortly.
"The campaign began to witness a large influx of those wishing to participate since the first hours of its launch in Deira City Centre," a statement from GDRFA said.
Lieutenant General Mohammed Ahmed Al Marri, GDRFA director general, said "the campaign witnessed unprecedented participation".
He said the importance of the campaign was to outline the risks of violating the terms of a visa in an attempt to reduce the number of offenders.
A new venue for the second stage of the campaign will be announced shortly, according to a tweet by the government department. (NewsWire)