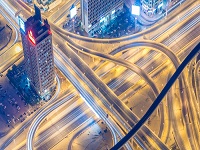 Several major roads in Dubai are to be closed between 11:50 am and 4:30 pm on Thursday, February 23, according to Time Out Dubai.
The UAE Tour 2023 cycling competition is taking place which means that some roads, areas and intersections will be closed for periods of time throughout the day.
The cycling race will go through lots of busy areas of Dubai and it could disrupt your day. Luckily, they won't close at the same time but periodically throughout the day. 
طواف الامارات 2023 pic.twitter.com/pPG2MRIBOY

— شرطة رأس الخيمة (@rakpoliceghq) February 21, 2023
Ras Al Khaimah Police have shared a map of the areas affected on Twitter, and if you want to know where the cyclists will be whizzing we have the list in full:
Al Mina
Ins. E66
Ins. D72
Al Quoz
E44 Interchange
Dubai Hills Park
E311 Interchange
E611 Interchange
E77 Interchange
Al Quadra Cycletrack
Al Nasr
E611 Interchange
Exit to Expo 2020
Expo City Dubai
E77 overpass
Ins. D57
E311 Interchange
Ins. D72
Emirates Hills
Ins. Sheikh Zayed Road
Exit to Jumeira St
Palm Jumeirah Tunnel
The Atlantis
Palm Jumeirah North
Palm Jumeirah South
Ins. D94
Um Suqeim
Dubai Harbour
This week, driving news was announced that is sure to put a smile on commuters' faces as there is a new Ras Al Khor flyover.
In addition, the Ras Al Khor Road will be widened from three to four lanes in each direction over a four-kilometre sector and there will also be a number of new bridges leading to Dubai Creek Harbour extending 1730m, with a capacity of about 10,600 vehicles per hour. (NewsWire)