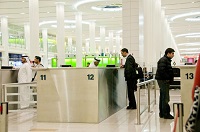 Many UAE residency visa holders who stayed outside the country for more than six months have been returning, thanks to a new reentry permit launched by the Federal Authority for Identity, Citizenship, Customs and Ports Security (ICP) recently. 
According to Khaleej Times, travel agents said they have applied for several permits after the service came into effect last month.
Typically, if expatriate residents stay outside the UAE for more than 180 days continuously, their residency visas are cancelled automatically. With the new service, such residents can apply for an entry permit to return. The permits have helped the primary visa holders and their families resume their lives in the UAE on the same residency.
Fines, fees
The total cost to avail of the service would depend on the time one has stayed outside the country. A fine of Dh100 is charged for every 30 days or less spent outside the UAE. The ICA fee comes to about Dh150. Travel agents may levy their own additional charges.
Valid reasons for staying outside UAE
Travel agents have said the biggest factor in getting re-entry permit applications approved is a valid reason. Residents will also have to submit proof of the same. 
The ICP has not specified the exact set of 'valid reasons'. According to travel agents, medical reasons are considered, in addition to humanitarian cases and those related to work.
Applicants need to submit copies of their Emirates ID and passport, and specify the reason while applying for the permit.
ICP states that the application must be submitted from outside the UAE. When approved, the applicant must enter the UAE within 30 days.
Who are exempted from applying for the permit?
Not all categories of residents need to apply for the re-entry permit. For instance, Golden Visa holders can stay outside the country for as long as they need without it affecting their residency. According to the UAE government website, other exemptions include:
Expatriate students studying in universities or institutes abroad. This is as per Dubai rules. Check with the ICP if this applies to your emirate of residence, the website states.

Students enrolled in educational institutions abroad.

Investors.

Residents sponsored by UAE diplomatic and consular representatives and their dependents.

Foreigner wife of an Emirati citizen.

Domestic helpers accompanying Emiratis having a scholarship to study abroad.

Domestic helpers accompanying UAE patients travelling or sent abroad for treatment.

Expatriate residents and their companions sent abroad for treatment, provided they submit a medical report approved by authorities in the UAE.

Domestic helpers accompanying members of diplomatic and consular missions representing the UAE abroad and employees of such missions.

Expatriate residents working for the public sector sent by their employers to attend training or specialist courses, or those working in their employers' offices abroad and their families.

Any other person excluded under a decision from ICP.

(NewsWire)