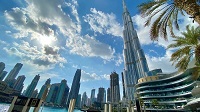 Wealthy internationals interested to acquire residency in the United Arab Emirates will have to pay an increased amount of money after the Federal Authority for Identity and Citizenship, Customs and Ports Security (ICP) announced that the fees for applying for this kind of visa have been increased from AED50 to AED150.
VisaGuide.World reports, according to a report of Gulf Today, the new changes in fees take also into account the authority's fees as well as smart service fees and electronic service fees.
Following the new changes, the ICP urged all internationals interested in the Residency by Investment scheme of UAE to verify their eligibility in order to obtain this visa through the website http://smartservices.icp.gov.ae or the smart application "UAEICP" while also following the additional requirements needed to complete these procedures.
Authorities in the United Arab Emirates have launched the Golden Visa Program in order to help the economic sector grow while providing residency for a large number of international investors.
Previously, the data provided by Dubai's General Directorate of Residency and Foreign Affairs (GDRFA) revealed that a total of 79,617 golden visas were issued by UAE authorities last year.
The same source revealed that over 62.4 million transactions were processed last year, taking also into account a total of 46.9 million entry and exit transactions through land, air, and sea ports.
Last year's figures show that there was recorded a notable increase last year from 37.3 million transactions registered in 2021.
Through the Golden Visa scheme, foreign nationals are eligible to acquire long-term residency for a period of either five or a total of ten years.
A report provided by Alarabiya News confirms that entrepreneurs, investors in real estate and in the public sector as well as specialized talents, doctors, and scientists are also eligible to apply for the UAE's Golden Visa scheme.
As part of the effort to bring to the country a larger number of internationals, authorities in the UAE recently confirmed the new changes applied to the Green Visa, which is also among the most sought-after programs offering internationals the opportunity to acquire residency.
The Green Visa it's a five-year, self-sponsored visa that is issued to three categories such as skilled employees, freelancers or self-employed persons, and investors or business partners.
The Green Visa is similar to the Golden Visa, however, for the Residency by Investment scheme, the permit is six-month, with multiple-entry ones. (NewsWire)