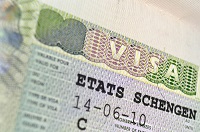 UAE residents wishing to travel to Schengen countries may not have to wait for appointments, stand in a queue or submit their passports to process their visas in the near future. 
According to Khaleej Times, as per a report, travellers to the 27 EU countries may soon be able to apply for their visa online and plans to digitalise the process are underway.
Residents and travel agencies in the Emirates are optimistic and excited about the new, hassle-free digitisation process of the Schengen visas.
According to an article published last week in Schengen Visa Info, a report which seeks to modernise the visa application process for Schengen areas by substituting physical applications and visa stickers with a digital process was adopted by members of the EU parliament.
The portal said that the report was adopted with 34 votes in favour, five against and 20 abstentions and that negotiations on the final details would begin once there are no objections when the EU parliament announces the interinstitutional negotiations on the file.
In a statement about the digitisation of the application process, VFS Global said, "We are fully aware that the EU plans to digitise the visa application process, and as an external service provider to virtually all EU and Schengen governments, VFS Global looks forward to work with these governments to support them on their transformation journey."
While they are still waiting for more details on how the digitisation process will be rolled out, the platform and other logistical details, the tour operators who spoke to Khaleej Times are optimistic. (NewsWire)