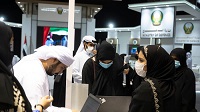 The UAE Cabinet has issued a decision, amending some provisions of the country's Emiratisation scheme in the private sector, Khaleej Times reported. 
The annual target is now divided by 1 per cent in the first six months and the other 1 per cent in the second half of the year.
A federal law aims to raise Emiratisation rates by 2 per cent annually to reach 10 per cent by the end of 2026. Firms were required to have 2 per cent Emiratis in skilled roles by the end of 2022. This year (2023), they have to add another 2 per cent Emiratis by the end of the year.
The UAE's Ministry of Human Resources and Emiratisation (MoHRE) had issued fines amounting to Dh400 million against private companies that failed to meet Emiratisation targets of 2022.
About 9,293 companies had achieved their targets for the year. More than 50,000 Emiratis are now working in the private sector, with 28,700 having joined since the launch of the 'Nafis' programme. The number of Emiratis in the private sector increased by 70 per cent in 2022. (NewsWire)