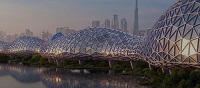 A Dubai-based sustainable cities developer is aiming to create the world's first closed-loop structure around a city, Khaleej Times reported.
Called 'The Loop', the concept will see a 93-km climate-controlled cycle highway around Dubai. The project aims to connect more than 3 million residents to key services and locations within minutes by walking and cycling.
Photos released by URB show a closed structure that runs around the city. The project connects all of Dubai's highest-density districts. Here is a proposed map of the project: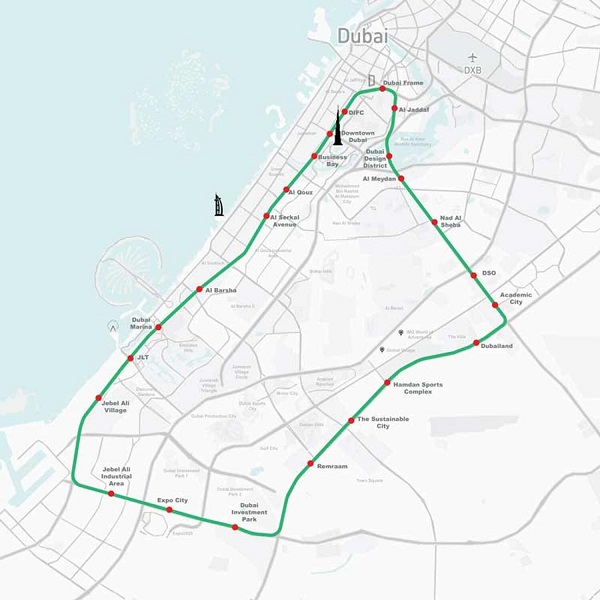 "We have reached the stage of concept design and are now looking to develop it further to find the best optimum solution in route and phasing in line with commercial feasibility," Baharash Bagherian, CEO of URB, told Khaleej Times.
The Loop would be an enclosed structure with "evaporative cooling" to control the temperature. It will provide a "climate-controlled all-year environment" to make walking and cycling the primary mode of transport for Dubai's residents.
There will be several entry and exit points along the loop to connect with various communities and public areas, existing footpaths etc.
According to URB, it will use "100 per cent renewable energy using kinetic power", while all the water will be recycled for irrigation. It would also feature vertical farms for food security.
The Loop will be "one of the greenest corridors to be planned", according to the company.
How soon could the project come up?
According to Bagherian, the project is still in the research and development stage. 
The company has not yet discussed regulatory approvals with the authorities concerned.
He did not disclose the estimated cost of the project, saying it is "confidential at this stage".
"No such closed loop has been attempted anywhere. We aim to create the first blueprint and the first proof of concept," added Bagherian.
Footsteps to power project
The company said the project will generate electricity as people walk through it. 
"Human footsteps taken every day will no longer go to waste, as it will be transformed into renewable energy. The running tracks are integrated with kinetic paving, which draws usable energy from every footstep. The technology works by using electromagnetic induction generators which vertically displace from the weight of a person's footstep. That displacement motion creates energy. It is then fed to generators as usable electricity."
The flooring will be integrated with sensors to provide data such as the number of steps and amount of energy generated in real-time.
What it will look like from inside
According to the CEO, The Loop will feature mix-use facilities for residents and visitors such as pocket parks, sports areas, fitness stations and various types of social spaces. "Vertical farming and community allotments will also be integrated."
The company also proposes tourism assets such as wellness hotel centres within the structure.
The project is in line with Dubai's 20-minute city plan., whereby 2040, residents will be able to access daily needs and destinations within 20 minutes by foot or bicycle. (NewsWire)