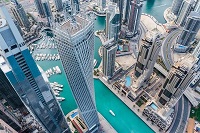 Dubai's real estate rental online registration system Ejari is now "fully integrated" with a direct debit system (DDS), Khaleej Times reported. 
The Dubai Land Department (DLD) announced in July last year that the UAE Central Bank's DDS eliminates the need for tenants to submit post-dated rental cheques.
Annual rents in Dubai are typically paid in two, four or six instalments via post-dated cheques.
The new system allows tenants and landlords to configure the rent payment schedule during the contract creation or renewal process. This will facilitate recurrent payments from the tenants' bank accounts, according to a manual issued by the DLD earlier this week. This means instead of cheques, the landlord may collect signed direct debit mandates from tenants.
"The UAEDDS … provides the residents of UAE with an automated payment method that will facilitate recurrent payments from their bank accounts," the DLD said in the manual that lists the steps needed to set up a DDS in Ejari and digital wallet noqodi.
The DDS allows tenants to sign an authorisation form for instalment payments. "It is mainly a product to replace cheques and automate the debit from bank account," the DLD said in the manual.
The DDS benefits tenants, landlords and property management companies.
WHAT HAPPENS IN CASES OF PAYMENT FAILURE?
In the event of payment failure, Noqodi will make three retry attempts, the manual states. If the payment doesn't happen, the tenant will be contacted. If it still does not happen, "legal action" will be taken.
Real estate firms could also levy fines on the tenant.
The DLD manual states that 'stop payments' will not incur any charges. Dates of payment cannot be amended currently, but the facility will be made available in phase two.
WILL RENTAL CHEQUES BE PHASED OUT?
Though rare, a direct debit payment system to pay rents has been around in Dubai for nearly four years. Residents of multiple communities in Dubai have been paying rents cheque-free since 2019. A top official from Dubai Holding Asset Management, which manages 15 communities, told Khaleej Times earlier that the company rolled out the payment option when it launched the 'DubaiAM Life' app.
Real estate experts said the Ejari-DDS link could be the "beginning of the phasing out of physical cheque payments".
Lewis Allsopp, group CEO at Allsopp & Allsopp, said: "A relevant point to make is that when most people think of direct debits, they think of monthly payments. In Dubai, with record demand and undersupply, monthly payments isn't currently an option that most landlords would favour. Here though, we needn't worry, the direct debit payments can be curated to the payment terms agreed in the contract, whether that be two, four, six or indeed 12 payments."
Anisha Sagar, head of property management at the company, said Dubai is continuing to move forward with current times while implementing a solid regulatory system in place.
"Obviously, for a very long time, cheques have dominated the payment system, with direct debits not previously being available. In other markets globally, we see direct debits dominate the payment methods in the rental market, so we expect a positive impact here, both for tenants and landlords. Importantly, landlords can also feel more secure, with each transaction having to be approved by the tenants' bank, which is connected to the Central Bank," Sagar added. (NewsWire)