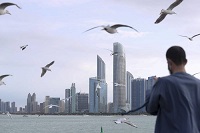 The UAE's economic growth is expected to moderate over the next couple of years due to slower expansion in the oil sector, say economists.
Khaleej Times reported that the stellar growth performance of the country last year was primarily driven by the oil sector, as hydrocarbon GDP growth was 14.3 per cent in the first nine months of 2022. 
However, non-oil sectors also strongly contributed towards the strong growth, led by real estate, tourism, trade and aviation sectors. The non-oil economy was estimated to grow 5.6 per cent last year, and Dubai's largest bank projected a more moderate expansion of 3.5 per cent for 2023.
"We expect growth in the UAE to settle to a more moderate rate over the next couple of years compared with that seen in 2022. We forecast real GDP growth of 3.9 per cent this year and 4.3 per cent in 2024, compared with an estimated 7.6 per cent last year," said Daniel Richards, Mena economist at Emirates NBD Research.
"Our estimated 13 per cent increase in oil GDP recorded last year will not be repeated with Opec+ oil production curbs in place once more to start the year. We forecast that oil GDP growth will slow to 5.0 per cent this year," said Richards.
Emirates NBD Research said 3.5 per cent non-oil GDP for this year "still represents a respectable pace of growth in a period when the world's major developed economies are flirting with the oil economy."
Earlier this month, World Bank also forecast slower growth for 2023 and 2024 at 4.1 per cent and 2.3 per cent, respectively, as compared to 5.9 per cent last year.
Similarly, Oxford Economics expects 3.5 per cent real GDP growth this year as against 7.9 per cent last year.
Oil prices have declined from their mid-2022 peak amid demand concerns, with this downward trend likely to continue in 2023 amidst global recessionary concerns.
Capital Economics senior emerging markets economist Jason Turvey said, Opec+ is widely expected to agree to co continue with its existing oil output quotas this week, which means the oil sector will act as a drag on the Gulf Cooperation Council economies in the early part of the year.
For Dubai, Emirates NBD Research projected 5.0 per cent growth for 2022 – slower than the 6.2 per cent clocked in the previous year.
"In 2023, we forecast a further slowdown to 3.5 per cent growth as Dubai is not immune from the headwinds facing the global economy given its small and open nature. Global trade flows have been slowing in recent months and will likely continue to do so, posing a challenge for the large logistics and warehousing sector," he said. (NewsWire)