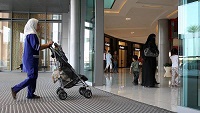 UAE employers will have to electronically transfer the salaries of certain categories of domestic workers after April 1.
According to The National News, the Ministry of Human Resources and Emiratisation said this will safeguard their employment rights and ensure they are paid in full and on time.
This applies to people who are employed by individuals and not a company.
It includes:
People who work on farms owned by individuals and are tasked to ensure the quality of the produce

Assistants who work for families and help them with their daily work such as monitoring the employer's email, planning and organising their personal and professional meetings and managing their travel

Housekeepers, personal tutors and personal trainers, especially brought to the UAE to work just for the family
These staff members will not be paid in cash as has been the case, but will receive their remuneration through the Wage Protection System that was earlier introduced for construction workers.
In the past, the ministry has encouraged employers to pay their personal staff through this online system but that was optional with many not following it. It has now been made mandatory for the above-mentioned roles.
The ministry categorises 19 professions in the domestic workers' category.
"As of April 1, 2023, employers should pay wages to domestic workers in these five categories through WPS. It will protect the rights of both parties and it is an easy way to pay salaries," said Abdullah Al Nuaimi, Assistant Undersecretary at the Ministry of Human Resources and Emiratisation.
"The WPS will be optional to use for employers to pay any type of domestic workers, but mandatory for these categories.
"The ministry encourages all employers to use the WPS for salary payment to avoid problems and complaints. It would enable employers to document the payment of wages and safeguard the payment process. It is a simple way to protect the rights of both parties.
"The system will record that payments are happening on time."
What is WPS?
The WPS is an electronic wages transfer system that oversees the payment of workers' salaries in the UAE and ensures that they are paid the right salaries and on time.
It started in July 2009 with Ministerial Decree No. 788 and covered staff employed by private companies.
Private sector companies registered with the ministry must open an account with a bank in the UAE. WPS authorises the employer's bank or agent to pay salaries to the employees and the bank then transfers the salary to the employee's bank account.
Salary transfer can be done through banks, bureaux de change and financial institutions approved and authorised to provide the service. Employers can also use the smart app of banks.
Now, the same payment system is being rolled out to cover domestic staff.
What 19 categories are listed as domestic staff?
The law classifies the following roles under domestic jobs.
People who work on farms

Personal assistants

Personal tutors

Personal trainers

Personal nurses

Housekeepers — with sub-categories of housemaids, security guards, cooks, nannies, gardeners, drivers and those who do general work

Sailor and boatman that operates a family's boat/yacht

Horse groomers

Falcon trainers

Anybody who does physical work around the house

People who take care of the landscaping

Those who raise and take care of livestock
Are there any exceptions?
Yes. Workers will not be entitled to get a salary in their bank account if there is a complaint against them, he has been absent from work, do not work for the employer who sponsored their visa and they did not complete 30 days of work after signing the contract.
How much will it cost to transfer the salary?
Mr Al Nuaimi said that exchange houses in the UAE offer the service for a nominal fee of Dh1 to Dh2.
"Exchange houses have offers such as reduced fees between Dh1 to Dh2. They also allow domestic workers to transfer money to their country for the first time without charge and offer better exchange rates," he said.
Any penalties for non-compliance?
Since the rule will be rolled out soon and will be in the early stages, there are no monetary fines.
However, employers who fail to pay wages through the WPS for one month will receive a notification to pay the salary.
If the employer fails to transfer the salary after that, he will be blacklisted from hiring any more domestic staff and will be allowed only after he clears all the dues through WPS. (NewsWire)